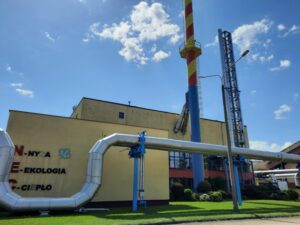 We are glad to inform you that on last July 21st 2023, Idreco-Kablitz-WTEC Consortium has been awarded of the Contract for the design and execution of the Waste-to-energy plant to be installed at Nysa town in Poland to produce Power from municipal wastes.
https://nto.pl/w-nysie-powstanie-kotlownia-na-paliwo-z-odpadow-132-miliony-wylozy-narodowy-fundusz-ochrony-srodowiska/ar/c1-17688823
The execution of this installation is part of the much broader national energy and ecological transition plan and as such has had wide resonance and attention in the national media
https://opole.tvp.pl/71455609/ekocieplownia-w-nysie-budowa-ruszy-we-wrzesniu
The Waste-to-Energy plant has a capacity to treat 15.000 ton/tear of municipal wastes producing, from such wastes, Thermal Power that will be used in the city district heating and Electrical Power which will be fed into the national electricity grid.
This solution will allow to the NEC Company to reduce the Coal and Gas consumption, currently used in the city district heating with large benefit to the citizens and to the environment, too.
This is an evident and clear confirmation that what is commonly indicated as WASTE BECOME A RESOURCE.
IDRECO has specifically in charge the design and installation of the Flue Gas Treatment Unit to clean the Flue gas coming from the waste combustion before the delivery to the atmosphere.
Concentration of pollutants achieved by IDRECO technology will be absolutely compliant with the reference applicable environmental law, but are expected to be far under such law limits.
This achievement is a further confirmation of the IDRECO know-how and of the reliable and skills of our Company, so appreciated by the main international players.
The Versatility and reliability of IDRECO's own technologies allows to our Company to also successfully approach and get the opportunities given by the GREEN ECONOMY and by the ECOLOGICAL TRANSITION.